AGRICONFOR  A c t i v i t i e s
Partnership concluded with « Atelier Robert » Belgium manufacturer.
Family company, created in 1973. They design and manufacture farming machinery, exactly products "driving the cattle farms".
Straw Blowers, Mixers, feeders, silages systems from 1m up to 45m3, a wide and complete range of machines ready to answer all needs, strong and technic, wide range of those solutions also for tractors front loaders, whell loaders and telecopics loaders, the best quality price solution in the market.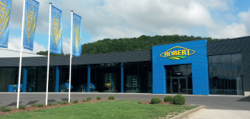 Effective from last 1st of September, this agreement is materialised by the new position of Xavier LLAMAS as Export Manager.
His mission is to structure and manage the export sales net organisation for all the internationals markets except France and Benelux.
AGRICONFOR Consulting
Accompanying manufacturers on Export thinking, analysis of new markets, adaptation of products and services, finding new distributors
AGRICONFOR Trading
Manufacturer Partnerships to outsource their Export sales department:

Partial accompaniment for a support to the team in place
Full support of the Export approach

Solutions of configurator and price calculator AGRICONFIG®
Used Equipment trading, Search and Sell
Press contact
 Xavier LLAMAS
Mob : + 337 88 31 64 87
Email llamasxavier@agriconfor.com
w w w . a g r i c o n f o r . c o m